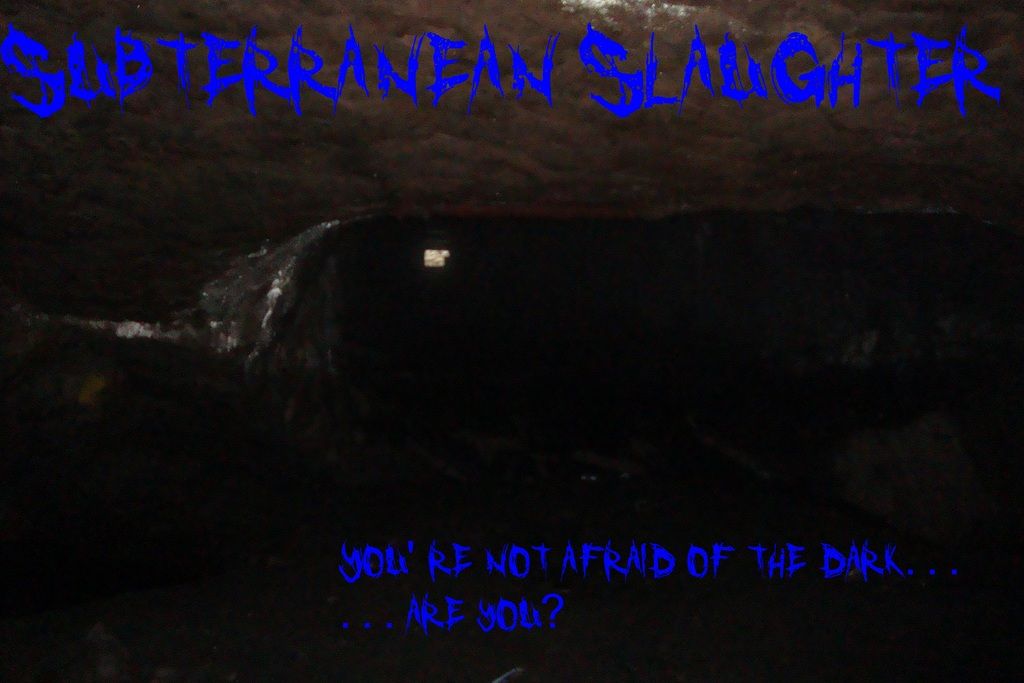 What:
Quite possibly the most extreme water war the community has ever seen! Subterranean Slaughter is the only war ever to be held underground. (Mother Nature can't participate this time!
) We have fought in the woods, we have fought in abandoned buildings, but we have never fought in a cave. This is not a war for wussies, or those with a phobia of dark/enclosed places. My friend has played airsoft in there before, so a water war is definitely possible.
When:
Wednesday, August 5th, 2015
Where:
This war will take place in a massive abandoned mine located in Kingston, NY (exact location will be given out to all participants). Most of it is open space, with many large columns. There are old structures, including small brick buildings and an HVAC system, and underground lakes to refill from, though we should also fill up ahead of time. It is truly an epic location, and this may be the only time you will get to fight there.
What to bring:
-One primary of medium class or lower to bring in (you can have spares in the car)
-Loaner blasters
-Water bottles
-FLASHLIGHTS (every combatant must have at least one)
-Glow sticks (I will buy some, but the more the better)
-Dust masks (again, I will supply them, but it doesn't hurt to bring your own; lots of dust gets kicked up)
-Durable, warm-ish clothing (it's like 40-50 degrees in there)
-Food
-A hardcore attitude (remember, this is not a war for wimps)
-Guests with hardcore 'tudes
Schedule:
12:00 - Arrival time. I will be there early to set things up. Please try to get there as close to 12 as possible, because we all need to go into the cave at the same time. If you arrive way late, there will be no way to contact us because there is no cell phone service underground.
12:30 to 15:00 - First battle; team 1HS
15:00 (3PM) - End battle to pick up those who cannot make it at 12, and switch up teams. Again, please be there on time, so that we can get back to fighting as soon as possible.
15:30 to 18:00 - Second battle; team 1HS
18:00 (6PM) - End of war; clean up and move out
Rules:
-Standard WWn hit rules apply (must be a direct hit to count)
-Each time a player is hit, the team who hit him/her gets a point, and the team with the most points wins
-If you are hit, you must put your hands up and stand away from the action behind your team for 1 minute (count to 60) before you are able to fight again. Call out "clear" once your time is up
-Keep track of how many times you get hit; at the end we'll add up the deaths to determine which team won
-Stay within the battlefield limits, which means no going out of the cave during the battle
-Hunting rule applies here; don't just sit in a corner for two hours
-Medium blasters or lower only (nothing more powerful than a 1000/1200/2100)
-No WBLs allowed, and water balloons are discouraged unless you want to fill some ahead of time
-Every player must carry a working flashlight
-Don't be a douche canoe, and don't get into big arguments over hits
Attendance (8):
SEAL (hosting)
Bailey
Area51*
AMBUSH
Duxburian*
HBWW
scottthewaterwarrior
Snoop Doggy Doge
*2nd round only
Are you up for the challenge? This is a smaller war, but it would still be nice to get at least six participants. Let me know what dates work for you.