I'm finishing up my next homemade water gun. I call it DR-5 Cloudburst.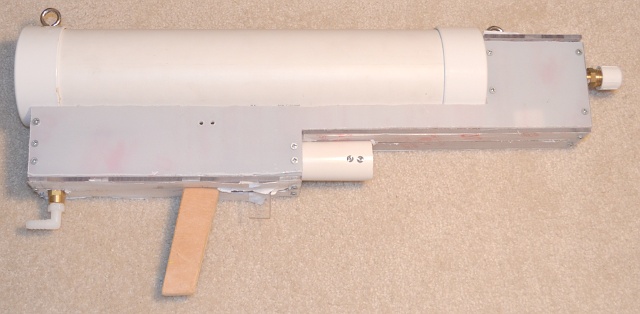 Cloudburst is a standard cylindrical CPS gun, similar to the CPS 3000 or CPS 3200 but smaller. It's substantially similar to
Riptide
, though there are many differences in the design (see design section below). The most obvious difference is that Cloudburst has a plastic enclosure that hides all the internals. That means you can open it up like a stock CPS gun (by removing the screws).
Cloudburst isn't entirely finished. I have test fired it, and it works, but there are a few issues I still need to resolve. I still need to add a return spring to the firing valve, finish the pump track, replace the grip with a better one, sand around the edges, and paint it.
The gun pictured above is basically the prototype I built to get the bugs out the design. I plan on building a second one and posting instructions on how to build it on SSC sometime in the future.
Design plan and philosophy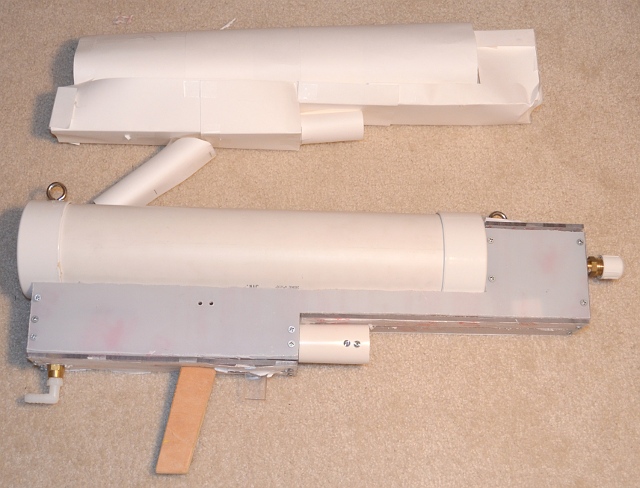 The image above shows a paper mockup I made around late January or early February with the design I thought I wanted to build. I was testing out the feel and sizing up components at the time. For the most part, I stuck to the design as I had it back then: a rectangular structure, pump from
SS 300
or
XP 150
,
internal structure from CPS 3000 by way of Riptide
, and another original trigger system (though there are some
similarities to the CPS 2100's trigger
).
My design plan was simple: I wanted to build a better Riptide. Riptide was alright for a test, but it was hard to maintain. It was a bloated and complex design, with too many parts and too few good features. It worked, but it never really worked well.
I choose minimalism as the overall design philosophy. I constantly asked two questions: How could this be simpler? How could I reduce this without sacrificing function? I tried to reduce the number of parts, use the same parts throughout (same screws), keep interfaces simpler, and make it as easy to maintain as possible. In the end, Cloudburst is much easier to build, use, and maintain than Riptide.
There's a saying in engineering: "Good, fast, cheap: pick two." What that means is that you can't make something that's good and fast and cheap, but you most likely can make it two of those. For Riptide, I was very concentrated on finishing it quickly without worrying too much about quality. It is a fast and cheap design.
Cloudburst was entirely different. It is a good and cheap design. I spent a lot of time making sure that everything fit together perfectly, making sure that all the parts were correct, and building slowly and deliberately. As a consequence, I took a really long time to build it, and it's still not done. I've put about 80 to 100 hours of work into the design and construction so far, with most of the time being in manually drawing out what shapes to cut. Future builders wouldn't need to worry about that step, since I'll make some templates you can print out and cut.
As a side note, I designed Cloudburst without using CAD software. Did I use a computer to help me design it? Yes and no. I didn't use any CAD software to come up with a 3D model of what I wanted to do. I did all design work and visualization with paper and pencil (both to make the paper mockup and diagrams on paper). I did, however, use a computer to help solve some of the design constraints and make engineering decisions. I derived by hand all of the equations needed to solve the geometry (something a good CAD software package does for you) and solved them using a
Octave
script I wrote (Excel would have worked too).
Internals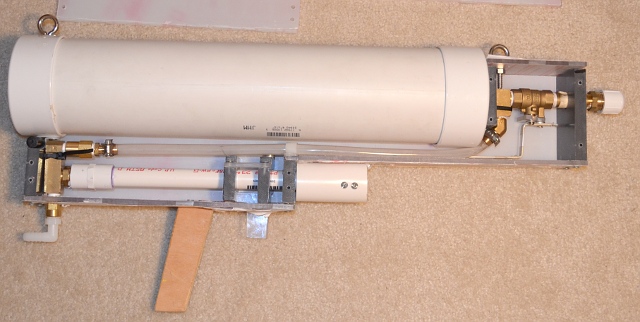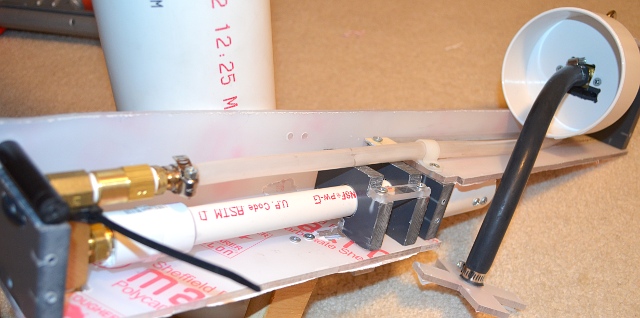 The internals are neatly organized and grouped in the same configuration as Riptide. I took a lot of time to ensure that moving parts would not conflict with one another. Riptide's trigger system occupied nearly the entire top portion of the internals, which forced the vinyl tubing to snake around crazily to avoid the trigger's path. Cloudburst avoids this problem entirely by keeping the trigger assembly as close to the left plate as possible.
More pictures: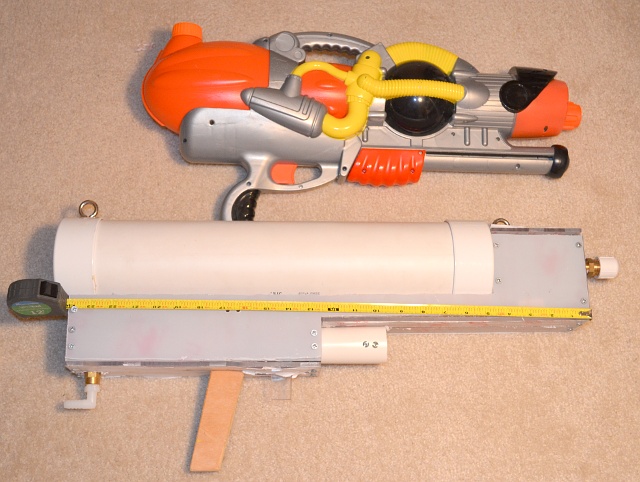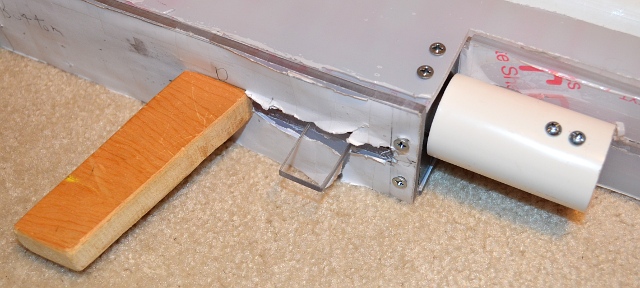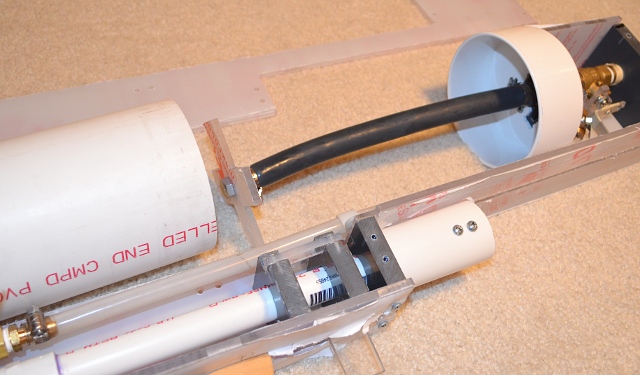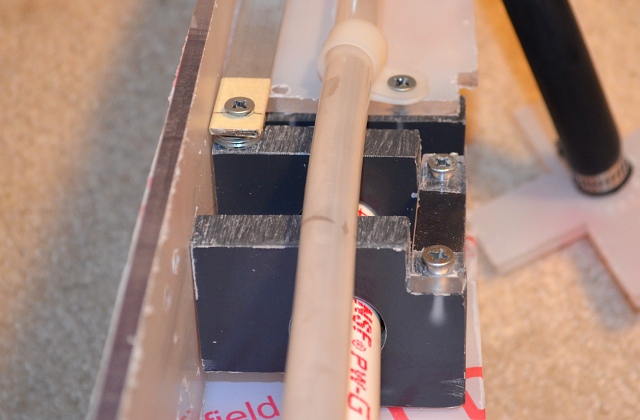 I'm sure I missed a lot of stuff in this brief summary, so please ask questions if you have any.