I posted about my latest homemade water gun in 2008 Projects, but I'm going to continue posting about it here.

THR stands for Tactical High Range water gun. Some people thought my older homemade water guns were less practical in wars, so this water gun addresses those shortcomings. In particular, it adds an included reservoir without branching out into weird shapes or being hard to hold.

The idea for this water gun came to me months ago, but I don't like concept threads, so I waited to start something before posting.

I've made many innovations in this design such as the plexiglass structure. Most previous designs use a PVC structure, which limits where parts can be placed. Some designs branch off by attaching things to PVC with tape or cable ties, but those designs aren't always structurally solid. A simple structure to hold pieces on allows for much more flexibility in placement of parts while retaining structural stability. This water gun is different from more conventional water guns due to the plexiglass structure.

I'd appreciate comments on this design a lot. I know some people (like DX and WaterWolf) have planned water guns with similar goals, but I haven't seen any of their comments here. I'd appreciate those comments most because they could help me think of more things to do before I finalize the water gun.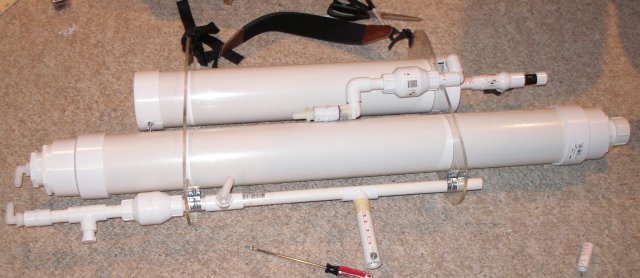 Here is the water gun as it appears at the moment. Most parts are done aside from the pump, pump handle, PVC cementing, and cutting the reservoir and pump shaft short. The reservoir will hold about 7.4 liters in the current configuration. I would like to shorten it to carry a more reasonable, but still massive 6 liters. The pump then can be shortened. Right now it's a little too long.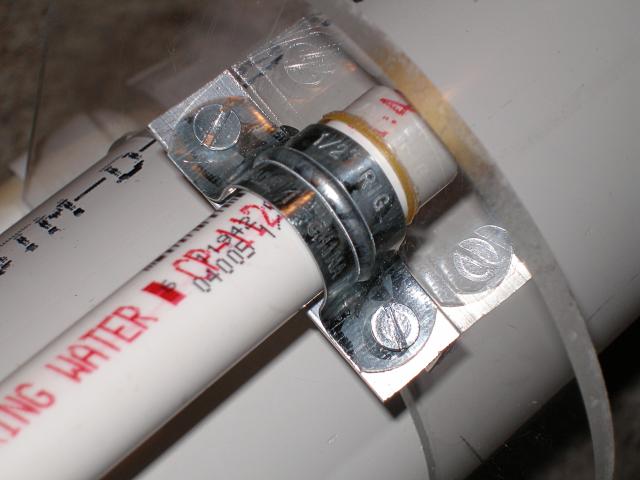 Above is a closeup on how the pump is held on. I basically used some pipe clamps and a piece of aluminum to hold the pump on. It's solid, but still allows for repairs and changes in the future.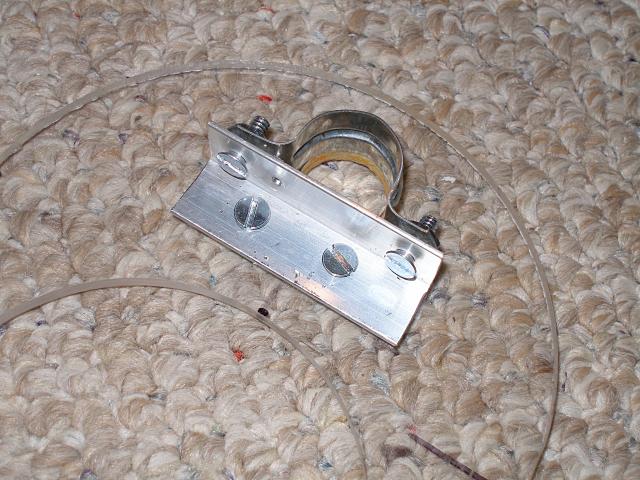 Here's another angle of the clamp on the plexiglass bracket.

I'm looking to complete the water gun in the next few days between website work and time spent with my friends. Any questions, comments, suggestions, or whatever would be very appreciated. I'm trying to make as good of a water gun as possible, so if there's anything I missed or could do, I'd like to know about it.