I posted about this at SSC but since WaterWolf and iSoaker discussed this here I though I might was well post a compilation of posts at SSC.
Drenchenator has been working on a type of pull valve with mixed results. It's not at all like what I described and is a completely new valve design. It needs some bugs worked out definitely, but right now it is functional. I'll leave posting about it to him.

The valve that Ben described is truly a completely new kind of valve. I don't have a good name for it; Until I do, let's call it a "new linear flow valve." It is like a gate valve but also like a ball valve. It probably just is a homemade gate valve though. I wasn't planning on posting it until my CPS homemade was done, but it works and Ben "burst the bubble." This valve show in pictures below is in fact the prototype for an improved valve I plan to build when I get time during Winter Break.

A few people have tried to build homemade pull valves with limited results. Ideally, a valve should provide linear and then laminar flow; a pull valve does not. I built this out of a desire for a "homemade linear flow valve." I also wanted the valve to open easily and close automatically after I failed to do so with my CPS homemade.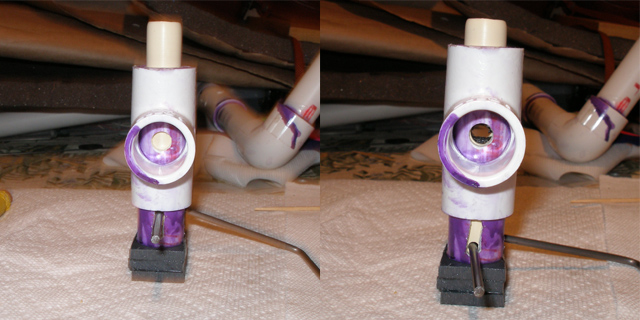 The valve works like a ball valve; however, instead of a ball with a hole in it, a cylinder with a hole is used. The cross contains a section of 1/2" PVC to house the cylinder. This video or the animation below show how the valve works.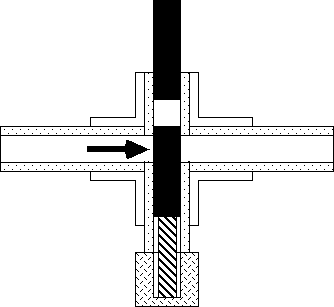 (the valve disassembled)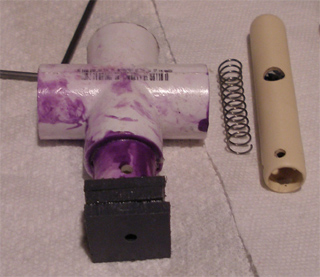 The prototype's cylinder is a sanded CPVC pipe filled with foam backer rod and glued in place with epoxy. It still leaks though. In the end, a 5/8" rubber rod will be used in the final version of this valve.

Some questions from the topic at SSC:
Is it easier and does it work as well as a ball valve?


It opens very easily. One single push opens it manually. This valve was designed to be used in a triggered gun, so a pull downwards also opens the valve. To complete my CPS homemade, I have to figure out how to do that using the pull of the trigger.

This valve should ideally work as well as a ball valve, but as I said this prototype leaks out of the non-machined cylinder. The rubber rod will fix that problem.
I don't know how much the rubber rod you will be using costs so can you give some info on that, thanks.


My local Lowes doesn't stock rubber rod. On McMaster a 6" length of 5/8" diameter medium soft rubber rod is a costly $9.13. Nonetheless, it is well worth it if I can finish my CPS gun's trigger system with this valve.
I'm wondering how you'll make sure the rod stays aligned. I feel it could easily twist, which could suddenly induce turbulence in a full-bore valve. Any solutions, besides a groove or square guide rod or something?


It has linear guides that limit the cylinder's motion. It won't twist as long as the steel rod is in. Plus, I made an "alignment hole" to properly align in the first place. I have video of the assembly of the valve that could demonstrate this but it is big (~60 MB). Furthermore, it didn't twist during testing. The spring doesn't provide a rotational force; it can't see how it would twist unless someone actually grabbed it and twisted it.





The guides also limit vertical motion; the cylinder cannot be removed without the removal of the steel rod. I thought the design through.
Do you think though on your valve, if I was to make the hole bigger it would work?

Yes, it should work as long as the hole is not as wide as the pipe (the cylinder would split into two at that point). This valve is a prototype for a later version that I will build using rubber rod and a larger hole as discussed earlier. Since the pipe is 5/8" wide, I would probably try a 7/16" hole at most. The hole in the prototype is 5/16" wide.
I have long wondered whether it would be possible to make something that could open and close near instantly with good linear.

It does open quickly. Another advantage of this valve is that it closes automatically. Though ball valves offer the maximum flow, they do not close automatically like this one. I tried for a long time while building my CPS homemade to make a ball valve close with a spring. No matter how I oriented the spring, it would not close the valve all the valve. I was able to get the trigger system to open the valve all the way, but if the valve can't close all the way the gun is pretty much useless. I still have to figure out a trigger system for this valve though (pullies come to mind).
Again, I don't actually have experience with this, but to make a cleaner "spring-stopper", would be to possible to simply continue the piece of 1" pipe downwards a little farther and put an end-cap on it?
I like your spring stopper idea. I don't know why he didn't do that actually. Sounds way simpler.

In retrospect, I should have done that and didn't think about that until now. To tell the truth, I used a "short pipe" for only two reasons: it made drilling the "valve holes" much easier and with the bottom section installed, the cylinder can't go past the open position. I didn't just pick an arbitrary point to end the 1/2" pipe; I picked the point where if the cylinder was in the open position, it's end would be at the end of the pipe. I can drill a hole through both the pipe and cylinder, resulting in a cleaner drilling (they would align better in the future). This method made sure that I could drill the hole correctly.

Instead, I should have just continued the pipe and have then used a short but accurate length of dowel to push the cylinder to the correct position so that I drill the hole in the right spot. The guides would make sure that the cylinder doesn't go past the open position then.

Thanks WaterWolf, I don't know why I didn't think of this before. It will be implemented into my final design.