Well, about six months ago, I was playing one of my favorite games,

Timesplitters: Future Perfect.

I was using a gun called the K-SMG (which I think stands for Kalashnikov-Sub Machine Gun). This gun works like a standard rifle, except for one thing: it is capable of using a rocket-propelled grenade. So, I eventually decided to translate this into a soaker design. I call it: the S-SMG (Super-Soaker Mortar Gun).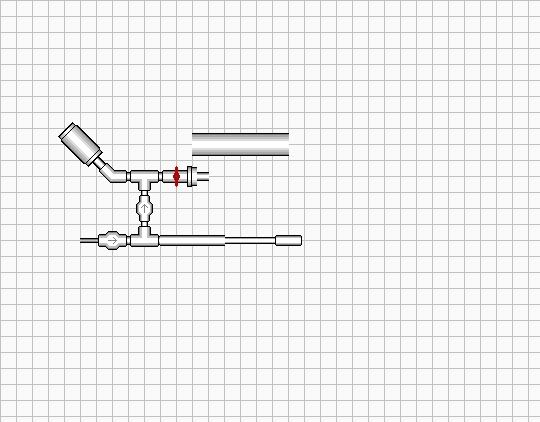 (that little bar above it is an attachable WBL barrel)

This image was made using Scavenger's PVC designer. I have not yet finished it, however. I just need to glue it and add the Schrader valve, as well as to make some final changes. It's a standard air-pressure gun that can be used as a WBL. The PC is slightly angled to allow more water out without causing too much turbulence.

So, does anyone have any input for this?

Well, hold that thought, please. I have another design coming.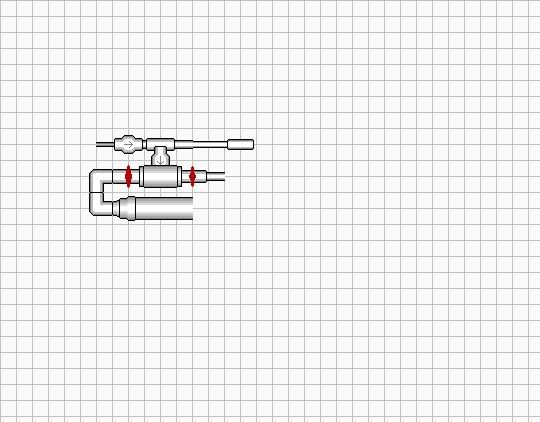 Before I begin: This design is intended to be closely clustered with an armband of some sort attached. There should also be a handle on the nozzle so you can hold the gun through the armband. The gun as a whole looks triangular if seen from behind. If someone has a better modeler please PM me. I'm not good with programming (I'll be taking a course next year) so if it's too complicated I won't be able to use it.

Anyways...This one is a little complicated. It is meant to be held on one arm by using an armband and a handle (which is isolated, blocked off from flow). It also has a small WBL attached to it. I am terrible at throwing water balloons, so I figured this may be a good alternative.

It is an air pressure gun, of course. The PC is two sided. One side to the WBL, and the other to the nozzle. Inside the PC will be a piece of tubing leading to the nozzle to take in water. A pump will be attached to the side of the PC. Two actually; a normal one and a bike pump. Oh, and the arm-piece, the PC, and the WBL assembly will be arranged in a triangular fashion (as seen from the rear).

This gun hasn't begun the build stage yet. So here are my biggest questions: Will it work? And is it even worth making?

Thanks for your help.