Quite a few months ago now, I had my MD 6000 open to fix a pump shooting problem. For some reason or another, I got it into my head to replace the PCs and make an ultimate air-pressure weapon. I was inspired by GJIV who did this to an XXP 275. This was before Frozen Fury when the whole rival teams thing had just gotten started; I really wanted to nab a 'W' for my team in our first war (as a team), so I was driven to create this thing. I wanted it to be a "secret weapon", so I kept my mouth shut about it (though my team knew about it). Unfortunately I didn't finish it in time for Frozen Fury, so I had to wait until MOAB to unveil it. It didn't turn out as insanely powerful as I was hoping, but it does offer crazily long shot time, it looks as intimidating as Babe Ruth stepping up to the plate, and it is more powerful than with the stock PCs.
I decided to use 1L seltzer bottles for the PCs. The first step was figuring out how on earth to attach them to the internal tubing. I had some 1/2" PVC laying around, which happened to fit
perfectly
into the mouths of the bottles. Unfortunately the pipe didn't fit into the internals, but it could be altered to do so. We have a lathe in the basement that I actually used to create grooves for O-rings in my homemade pump for my XXP 175 (and it still didn't work, despite sealing perfectly; Drenchenator told me at MOAB that the check valves might be screwed), which would work perfectly for what I had in mind. My plan was to carve two small sections of the PVC pipe into the same shape as the attachment/adapter thing (what the heck do you call that?) on the stock PCs. Now there was a small problem; the groove for the O-rings was so deep, that to do the same thing on the PVC would end up slicing right through it. So in addition to everything else I had to do, I glued a piece of CPVC inside the PVC to make it thicker. Now I could finally get to work.
Here's a picture of me carving out one of the PVC pieces.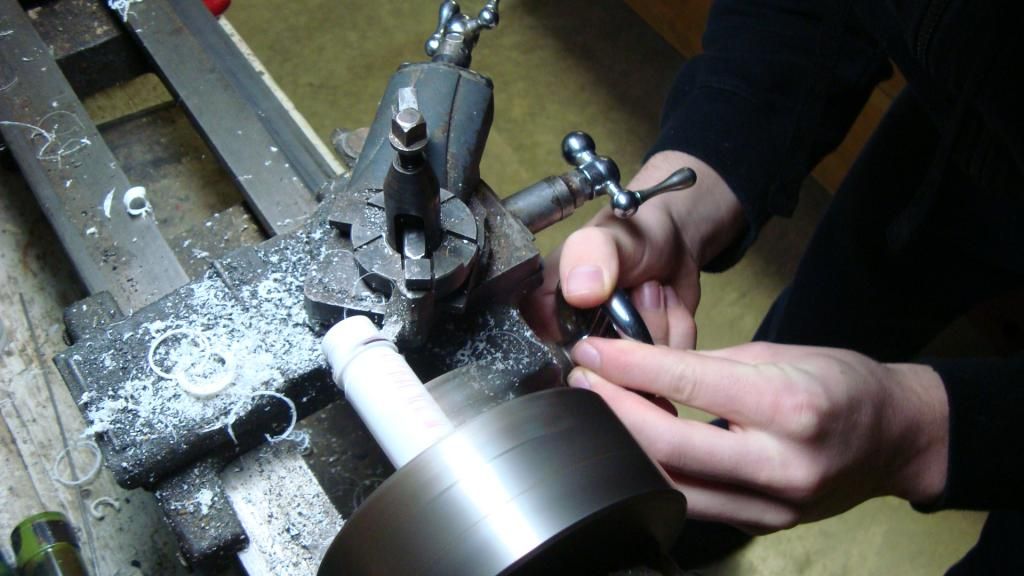 I had to stop every once in a while to check it with the calipers, to see if I was getting close to the stock PC. This took a very long time, as I was being very careful not to mess it up.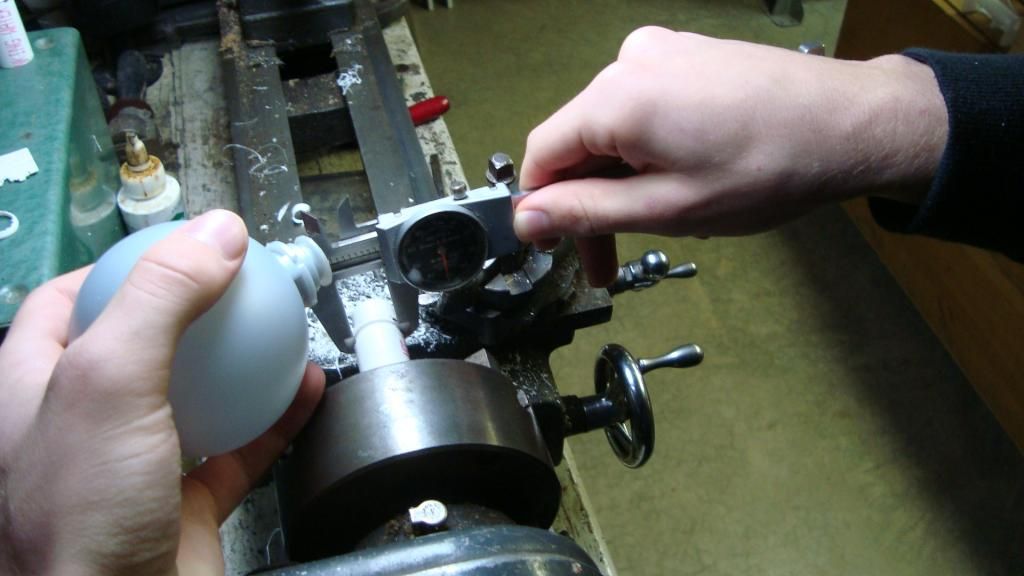 Finally, one of them is finished! The reason I didn't have this for Frozen Fury was that I accidentally destroyed the piece for the other PC, which set me back, as I had to start all over again (on that piece).
Picture of the first one I finished, next to the stock PC for comparison.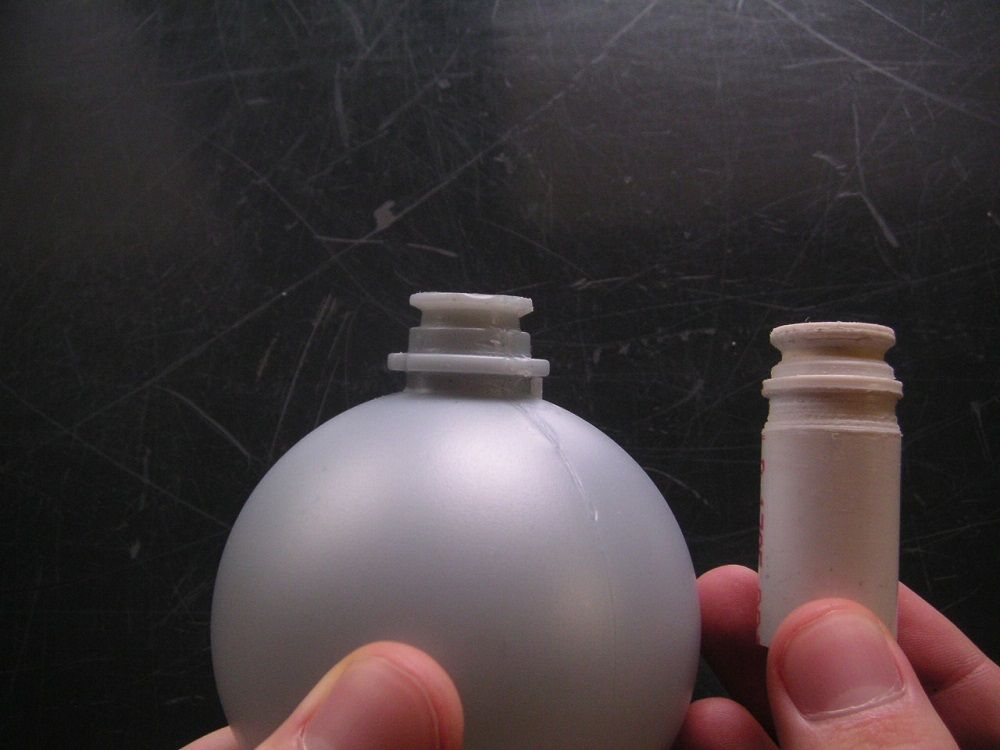 Once both pieces were done (after Frozen Fury at this point), I cemented them into the mouths of the bottles, using hose clamps for extra reinforcement. Here's a picture after I inserted them into the internal tubing. They fit quite nicely, and the seals are absolutely perfect.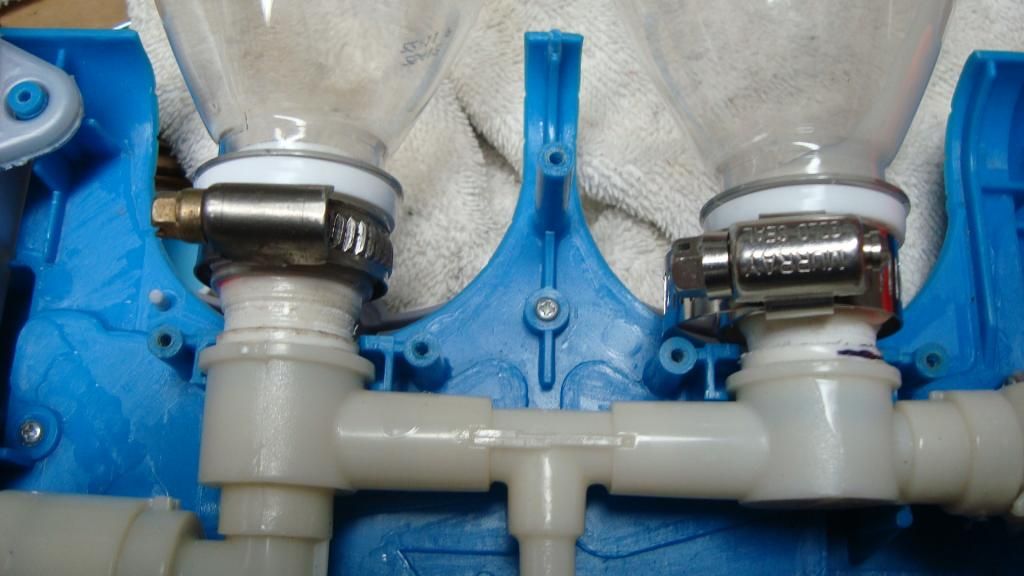 However I still wasn't done. I still hadn't addressed the problem that caused me to open the gun in the first place. It seems like almost all water gun problems come from the valve. So it was time to perform the de-Max-D modification. As you can see in the picture below, I had to make a hole in the casing in order to attach the spring (which came from my Arctic Blast).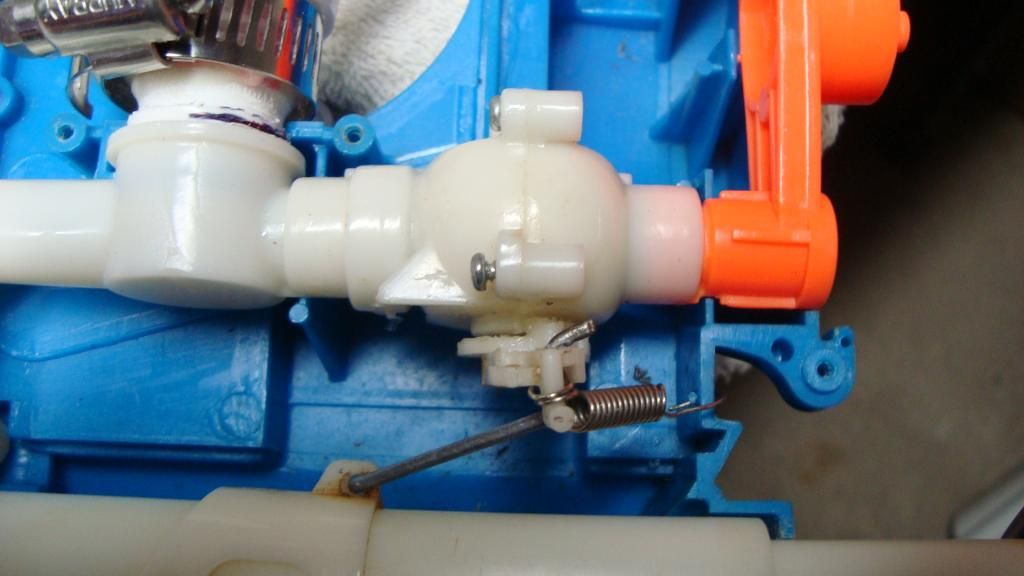 However I encountered yet
another
problem. The valve apparently does not have anything to stop it from opening "too far". What I mean by that is, when I pulled the trigger, the valve would open, then start to close as I pulled the trigger back too far. There must have been something to stop it from doing this in the Max-D mechanism that I took out. For some reason, this never happened to my Arctic Blast, which I also de-Max-D modded. So I had to create something to stop the trigger from going back too far. What I ended up doing was carving a piece of wood (by hand) that I would glue into the handle behind the trigger piece, at just the right distance so the valve could open all the way, but not start closing. Here's a picture (after I glued it in).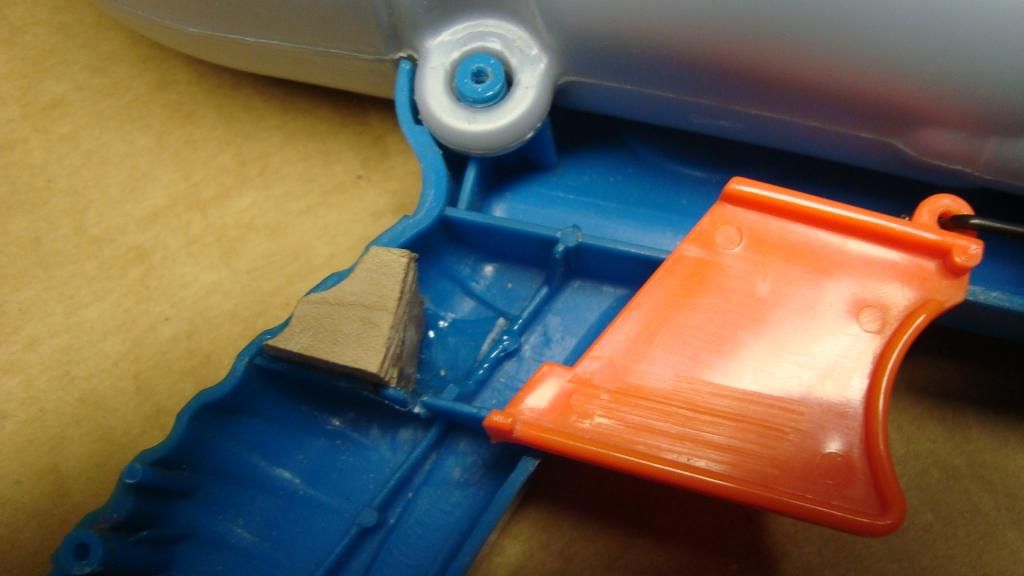 And here's a shot of the entire thing. The spring below the pump is actually a stronger one than the stock spring, which I removed because it was really freakin' weak. This was actually what I originally did to stop it from pump-shooting, and it worked for a little while, but eventually it stopped working and I opened it up again (that was when I did all this.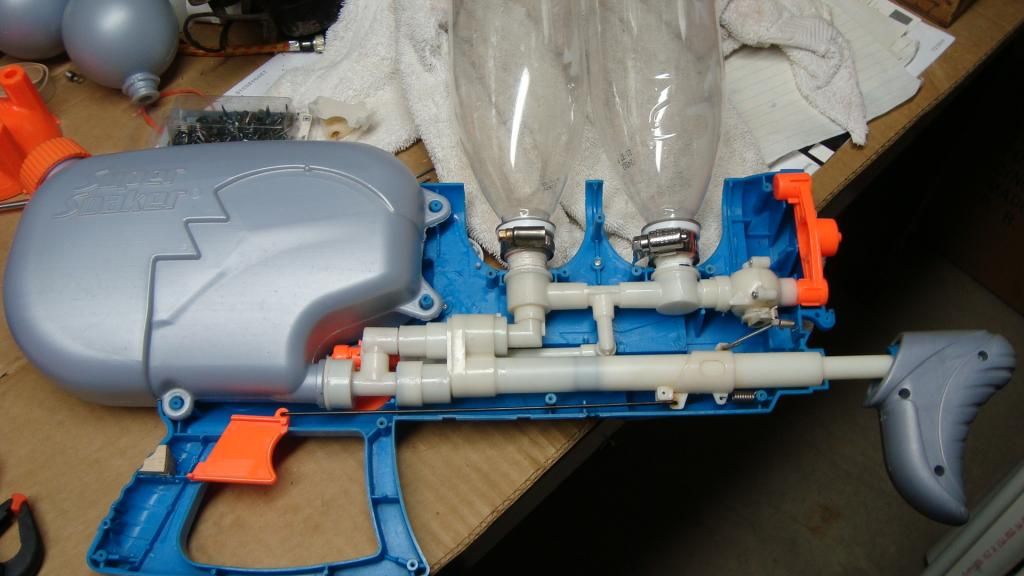 Now it was FINALLY ready to put back together and shoot. I gotta say, this was quite a headache to work on at times.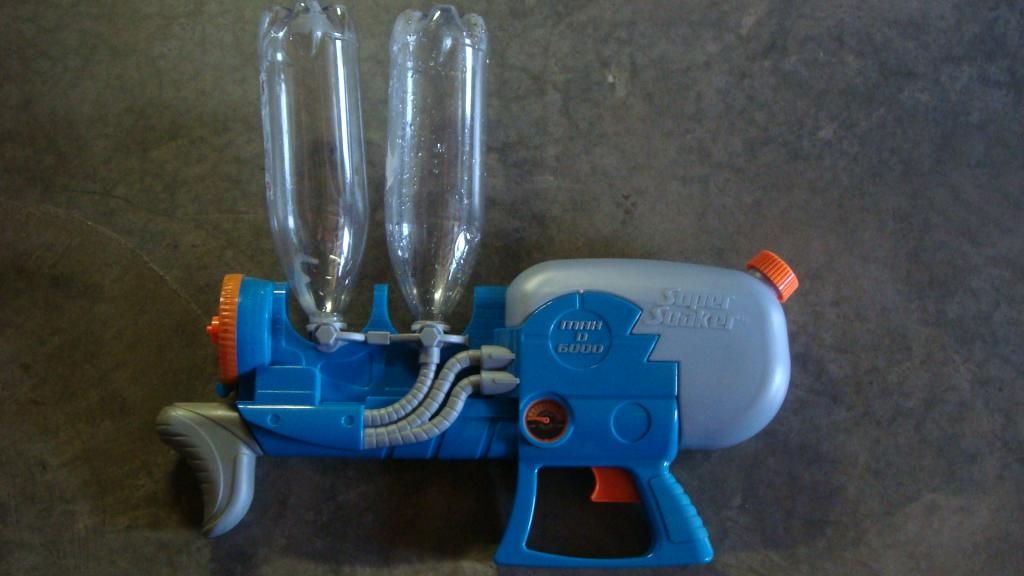 As you can see, I originally tried shooting it without the nozzle selector. The stream was nice and thick, but it just didn't go the distance that I needed. So I put the selector back, and it got pretty good ranges on the largest nozzle (better than stock). However it just didn't have a whole lot of output, so I drilled out the smallest nozzle to around 3 or 4X. It actually went about the same distance as the largest stock nozzle. I'm guessing it hits low 40s. I was hoping for some insane 50+ range, but I figured that wasn't going to happen with the PRV in place. However there's no way that I'm going to disable it, because that's asking for it. If I remember right, GJIV actually replaced the spring inside the PRVs of some guns, making them still kick in, but at a higher pressure. That would be extremely helpful for my blaster, but I have absolutely no idea how to do it (and put it back together).
But all and all, I'm pleased with the outcome. I thought that the gun lasted forever with the stock PCs, let alone these ones which hold the same amount of water as the reservoir! Overloading is not optional here. I literally have to completely fill the reservoir twice, haha. It's a little heavy and unbalanced, but I don't mind. This gun is actually battle-tested; I used it in the AP-only round at MOAB, and I was pretty happy with it. It proved it could go head-to-head with the 300s, and I even got a kill with it (a big deal nowadays, haha)! Though when I used it again in the theater at LBW (when I brought Bailey down to CT for a "last chance" war at LBW with DX), it started leaking from the valve. I guess the springs still can't close the valve all the way (though they do a much better job than the stock ones). This happens to my Arctic Blast as well. I need to get some industrial-strength springs somewhere. I am so sick and tired of this problem that plagues my blasters.
So that's my insanely modded MD 6000. I call it the MD 60000 (or 60K, but I don't like that term as much because it makes it sound like it was K-modded) to denote the increase in power and badassery. It was certainly a long an arduous task to make it though; looking back on it I can't believe all the problems I had to face (and I still have one more to overcome). This is why I rarely mod guns, haha.
Now for an in-action photo (or, the closest one I have. Did we film the AP-only round?).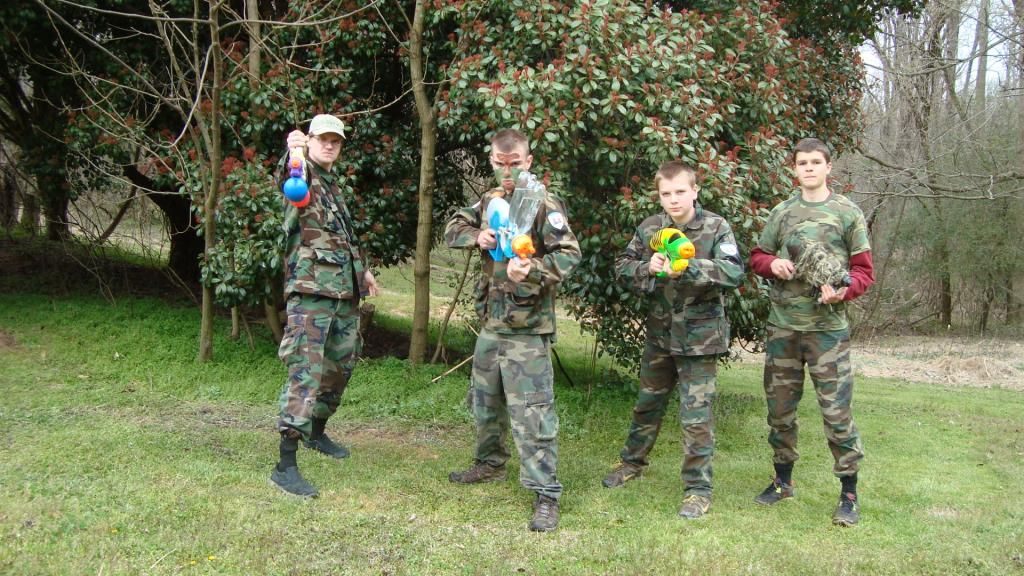 Feel free to ask questions. Enjoy!
-SEAL