Hopefully it's okay if I post a game scenario.
Game: OHS respawn
You and 10 opponents armed with nerf super soakers are going to have a dual in the middle of a forest. You have a splashzooka, 8 of the opponents have thunderstorms, and the other 2 enemies have stock hydro cannons. Your goal is to defend the QFD for 10 minutes. Feel free to chose which side you are playing for.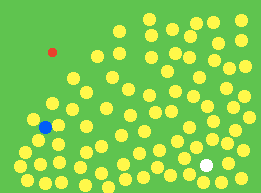 The red dot is the QFD, the blue dot is your respawn point, and the white dot is the enemy spawn point. All the yellow dots are trees.