It's been a while since I made one of these. I've had the map for a long time, but I never got around to making a scenario with it.
Scenario II, "Divided by Water"
You are the captain of a 12-man team, and you were going to have a war against some buddies, but they chickened out at the last second and left your team standing around at the battleground, wondering what the hell happened. Determined not to let your trip go to waste, you decide to split the team up and fight amongst yourselves in a OHS game, where if a player is hit, they must return back to their team's starting point and wait there for 30 seconds. The game will be played for 30 minutes. Splitting up the team arsenal left you with:
Primaries:
CPS 2700 (Camo painted)
Monster X (2002)
Orca
Vindicator
Hydro Cannon (Nozzle modded to shoot 45 feet, camo painted, 8L backpack added)
Colossus
Bolt-action WBL, 350 ft. range
Secondaries:
SS 60
XP 90 Pulse Fire
XP 270 (Camo painted)
MD 5000 x2
Firefly
Stream Machine
Python ("Burst" nozzle drilled out for riot blast)
Sidearms:
SS 25 x2
XP 20
XP 220 x3
XP 240
MD 3000 x2
MD 4000
Hammerhead
Goblin
Viper x2
Enemy Arsenal:
XP 75
XXP 275
SC 600
XP 310 x2 (One camo painted)
CPS 1-3-5K (Camo painted, middle nozzle drilled, other nozzles plugged, shoots 45')
MD 6000 (Camo painted, smallest nozzle drilled out for riot blast)
Pirhana
Flash Flood x3 (Two camo painted and de-Max-D modded, 3rd one's riot nozzle modified to shoot 40')
SEAL H2 style one-shot SCH
Douchenator long-barrel WBL, capable of shooting 600'
Various sidarms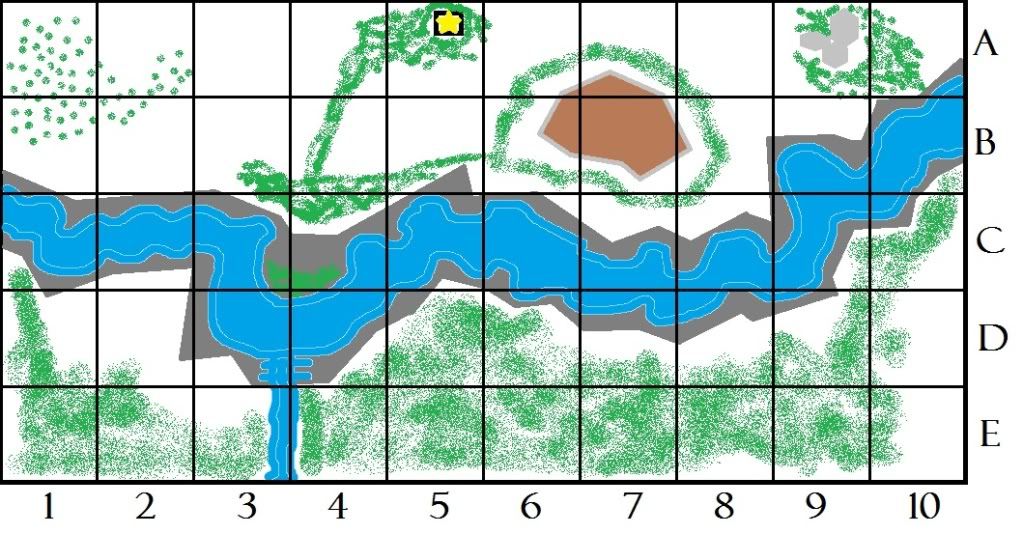 Link to Photobucket page
Each square is 10,000 square feet, gold star marks the tree house in which you begin the game, large brown splotch in the B-7 area is an old quarry about 10 feet deep, gray blobs in A-9 are large boulders, each about the size of a pickup truck. Green speckles in the A-1 area indicates a swamp. The river is very wide, but not very deep, with many rocks sticking out above the water surface, making it crossable, but not easily so. The river lies in a 30' deep canyon with moderately steep slopes (the dark gray areas.), and there is a smaller stream coming in from the south that ends in the waterfall at D-3. The enemy side of the canyon is mostly thick woods, nothing else of note.
Good luck! I will come up with counter-strikes for each strategy, as with last time (Going to PM my starting plan to iSoaker again.).
~SEAL