As Summer is approaching, I've decided to pick up where I left off with "Hydrolysis V2" scenarios....this time, no Monster XLs!
I need to stop liking that weapon...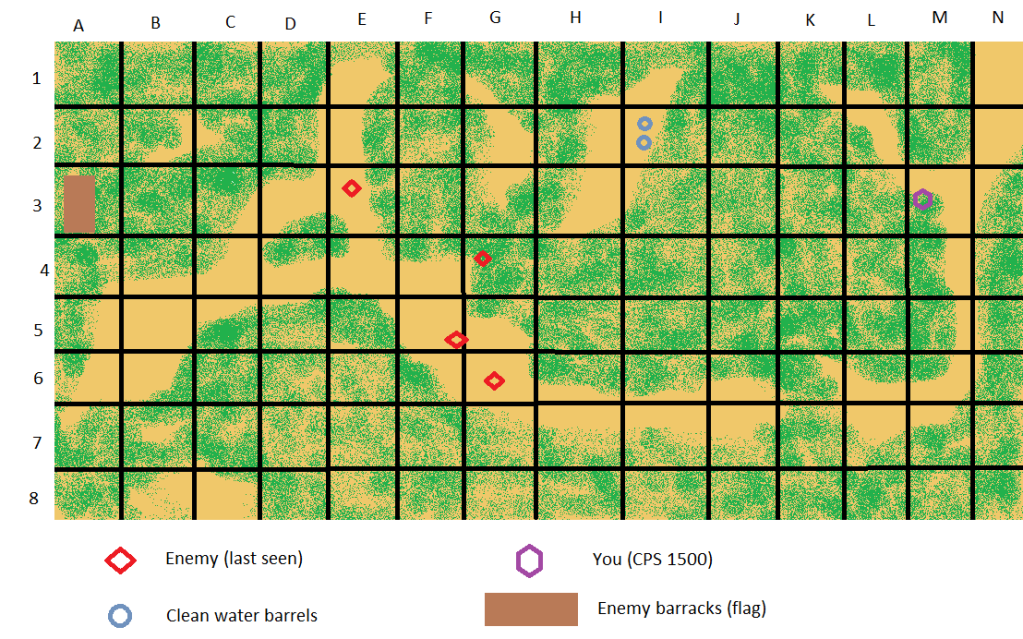 "Run!" shouts your last remaining team-mate of your three man team as he is hit in the back by a CPS 2000 blast. You have no weapons; you dropped your CPS 2100 a while back to maximise your mobility. You need to run. Faster. Five enemies ran after you, the last obstacle in their way to victory. Your training kicks in, and ignoring muscular ache, you hit your maximum sprinting velocity, finally losing them in the woodlands.

You pant for a few seconds, careful not to be too loud. This was disastrous. The enemy had had twice the numbers you'd thought, and their weapons had been high end CPS class, not just medium XP class and Vindicators. You pull out the map from your pocket...hmm. It was hard to tell - the woodlands terrain was all similar looking - but having trained in these woods for years, you pinpoint yourself to M3. A cached CPS 1500 lies under some leaves; you thank yourself for hiding this here earlier. It has a full tank. The woods are deadly silent in the mid-day heat, save for crickets chirping and the sound of your own racing heart. Time to move out.

You have two ways to win. Either A) Eliminate all hostiles (One Hit Kill) or B) Go to the upper floor of the enemy barracks and wave the flag above it. On your map, you mark the last known locations of four of the six enemies; they are bound to have moved a little since those positions, however they may still cover an area close to those points in a wide defence around the barracks. Their armaments include a CPS 4100, a Monster X, a CPS 2700, and a WBL. The other two weapons? Unknown, but likely heavy CPS class weapons. They have radios, but are not allowed to use them once eliminated, nor are they allowed to yell if you hit them with water to reveal your/their location. You can bet that at least one guy will be guarding the barracks in a static position.

Hmm, strange. You find yourself devising a plan in your head whereas usually you'd be explaining it to a team...
Rules are as follows: One hit kills, one life for every combatant. You get hit, you're out. They get hit, they're out. The one advantage you have (as long as you use the CPS 1500 and don't pick up any other weapons) is that you are mar more mobile and faster. The woodlands will slow both you and them down a little bit when running due to tree roots, logs, etc. The enemies are unaware of your position at the start. Each block, whilst not scaled quite properly (the picture is a little poor, sorry), is 20m by 20m.