Kind of felt like making some of these; I want something to do now that I've stopped making comic strips. I would like to crank out a whole bunch of these, with some unique situations.
Scenario I, "In the Shadow of the Mountain"
Here's the deal; you're captain of a large neighborhood team with 19 people. Today you are going to battle your biggest rivals, a team of 14, who embarrassed you last time by swamping you in a OHS game 7-2. This time you are going to have an
OHK
match. You decide to hold the fight at a new battleground; it seems a little small, but it turns out only 12 people actually showed up on your side. That should give you more fighting room, but unfortunately, the entire rival team showed up; if they beat you so bad when they were outnumbered, imagine what could happen when they have greater numbers!
But you're determined to win this time, plus you're somewhat wiser than before. You have a pretty fair arsenal:
Primaries:
SS 300
CPS 2500C (Camo painted, colossus modded to shoot 55 feet, 5X nozzle drilled out for 35X riot blast.)
XXP 275
SC 600 (Camo painted)
CPS 1700 (X2)
MD 6000 (Camo painted, de-Max-D modded.)
Blazer (Camo painted)
Semi-practical CPH (Similar to JLspacemarine's CPSCAR, except with a backpack; shoots up to 50'.)
Secondaries:
SS MDS
XP 70 (X2) (One camo painted, other nozzle drilled.)
XP 270 (Camo painted)
Piranha (Camo painted)
Aquapak Devastator C (De-Max-D modded, colossus modded to reach 40')
Scorpion
Sidearms:
XP 20
MD 2000 (X6) (3 of them de-Max-D modded)
MD 3000 (X2) (Both de-Max-D modded)
MD 4000 (X3)
Hornet (X2)
Micro SCH (Shoots up to 30')
The other team's arsenal consists of many CPS 2000s (At least 5.), 2 CPS 3200s, a very powerful CPS 21K, an APH, and many other blasters that aren't noteworthy.
I have provided a map of the battlegrounds (Yes, I copied M4's chessboard grid; it makes things easier.
).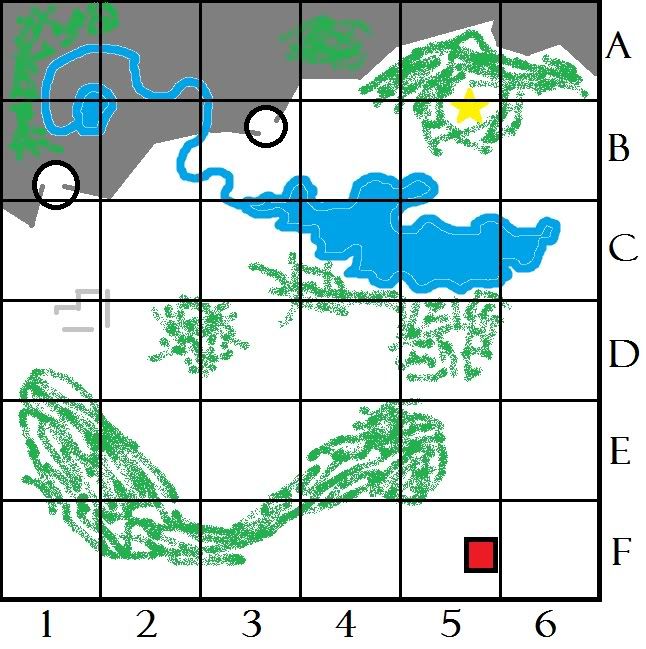 Link to photobucket page if you can't view the whole image
Note: Each square is about 4,000 square feet.
You start in a clearing in a small patch of forest, marked by the star in A/B-5. The other team starts in an old barn, marked by the red square in F-5. The enemies have a giant water cannon in the barn, capable of shooting at least 90', with 125X output and a 2 second shot time (Takes about a minute and a half to reload.). They also have two Douchenators, which they'll likely keep at the barn, but may bring one on raids.
Most of the battleground has tall grass. Notable areas include the 30' tall cliff in the north end of the battleground, shown in dark gray, with the black circles indicating places where you can get up to the top. There is a large lake in the middle of the field, fed by a stream that comes down from a small pond on top of the cliffs.
Green indicates trees, bushes, and/or other thicky vegetated areas. The light gray lines in the C/D-1/2 area indicate an old ruin of a house; each line represents a stone wall around 6-8 feet high (In most places.), with many holes in them.
What's YOUR battle strategy? For each strategy posted, I will try to come up with a counter-strike.
~SEAL