Made these a while ago, and atvan's concept reminded me that I probably should post them. I believe that air pressure has a lot of potential (Just look at how powerful APHs can be.), and since BBT can't make CPS blasters anymore, I think they should start looking into high-powered air pressure blasters, on the level of the SS/XP 300 at least. That's why some of these blasters have kind of a Water Warriors-ish appearence.
As with my CPS line, we'll start with the smallest blaster. The HP (Stands for High Pressure. Yes, it's uncreative.) 101 is designed as a small secondary or a large sidearm, and should be the smallest blaster ever to have a PC. Range should be in the mid 30's, perhaps close to 40' on it's regular 2.5X nozzle. The orange button on the side (There's one on the other side for lefties.) activates the riot blast, which should be only slightly less powerful than the FF/AB's, due to the smaller nozzle. The pressure gauge, as on all HP blasters, actually indicates the PSI amount.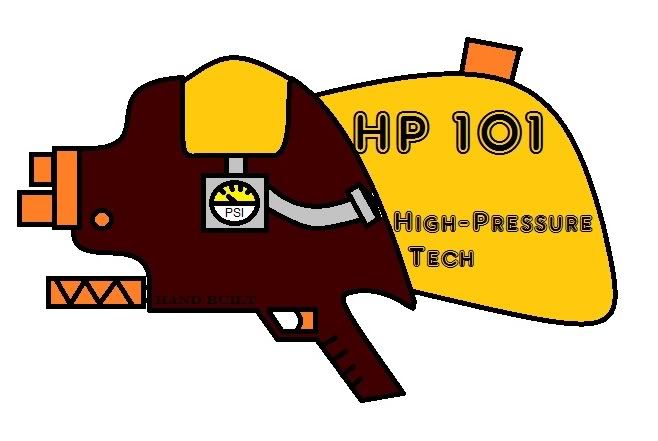 Next we have the HP 202. This is one of my personal favorites, designed as a Gorgon replacement. With it's larger PCs, it should top the Gorgon in range, with it's 2.5X and 5X nozzles. Also has a riot blast, slightly more powerful than the FF/AB. I love the color scheme; I don't think it's ever been used on a stock blaster before, which is too bad, because I think it gives it a sort of "Cryo-blaster" look.
Next up, the HP 303. Dispite the fact that I made it look horrendously top-heavy, it should be able to match the SS/XP 300 in power, with it's 5X and 10X nozzles. Just like all of the HP blasters, it has a riot blast, which is comparable to a homemade's on this blaster.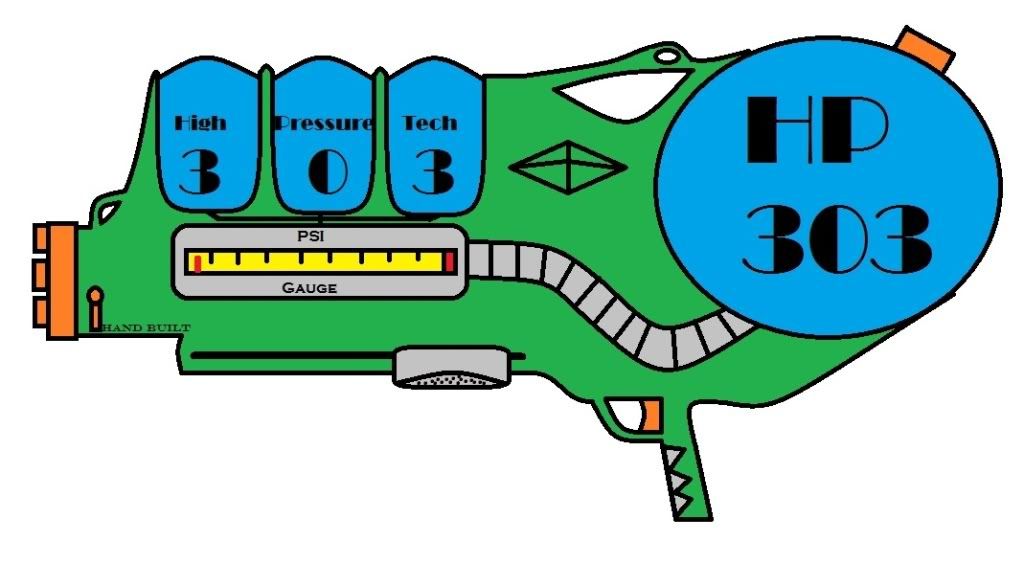 Next, you guessed it, the HP 404. The shape of this blaster is kind of weird, and I'm not sure how well it would work, but damn, does it look awesome. It's 4 monster PCs should give it a range of roughly 55 feet. Nozzle sizes are 5X, 10X, 20X (Just like the CPS 2500.), and the usual riot blast, which is even more powerful than the 303.
I noticed that I forgot to add a reservoir cap. It should be on top, right next to the rear strap hook.

And finally, I present to you the world's first stock air pressure blaster with 5 PCs. The HP 505 uses a backpack reservoir to leave room for all the PCs on the body (Which also looks a little top-heavy...), and while I didn't add much detail to the backpack, it should be very comfortable, and will hold up to 10 liters. This blaster is meant for heavy gunning only, and is well suited to the job with it's 10X, 15X, 20X, and 30X nozzles, some of which are capable of hitting 60 feet. The riot blast alone can spit water out to 50'.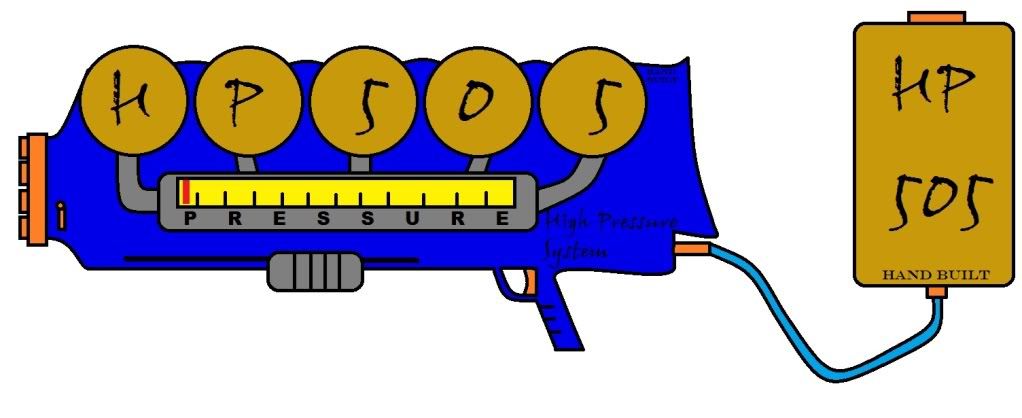 None of these images are to scale, so I don't want to hear things like "That trigger grip is to small!".
And that's my air pressure line. Like I said, I think air pressure has a lot of potential, and BBT would do well to know that. The Gorgon was a good start, but I want to see SS 300 levels of power in the next few years. It should be relatively cheap and easy to do, especially when compared to the Pulse series.
Comments are always welcome; I will answer any questions for you.
~SEAL